JUXTAFIT™ Essentials Lower Leg Long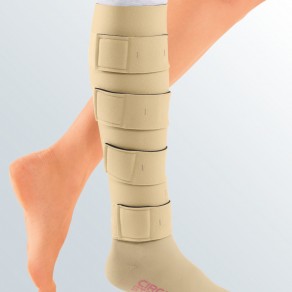 Inelastic, ready-to-wear compression garment
for the entire leg
Indications:
• Mild to severe lymphedema.
• Mild to severe lipedema.
• Moderate to severe venous disease.
Features:
• Inelastic compression.
• Compression (20-30, 30-40, 40-50 and 50+ mmHg).
• Juxtalock™ band system allows for easy and instant adjustability of product without removal.
• circaid® built-in pressure system™ (BPS™) guide card provides targeted compression ranges for improved results.
• SILVERtec™ added to prevent static, odor & propagation of bacteria in the garment.
• Active & sedentary use.
• Simple measuring & sizing – Ready made in multiple sizes with 2 lengths of the lower leg and 3 lengths of the upper leg with knee.
• Works great with elastic stockings as part of a complete compression system.
• 6-month warranty.