Accreditation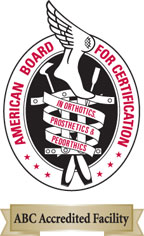 See the Trainer is proud to announce that we offer a Certified Orthotic Fitter in each of our nationally-accredited facilities.  
Certified Orthotic Fitter
An ABC Certified Fitter-orthotics is a health care professional who is specifically educated and trained in the provision of certain orthoses. ABC's Certified Fitter-orthotics Scope of Practice document details the specific capacity the certified individual can practice. This includes patient assessment, formulation of a treatment plan, implementation of the treatment plan, follow-up and practice management. ABC's Certified Fitter-orthotics credentialing program is accredited by the National Commission for Certifying Agencies (NCCA).
Facility Accreditation
 The American Board for Certification in Orthotics, Prosthetics and Pedorthics has been accrediting O&P organizations since 1948. To attain ABC accreditation, all patient care facilities must comply with certain business requirements as well as the appropriate ABC patient care standards.
ABC standards create a minimum expectation for the physical environment and organizational function of orthotic, prosthetic and pedorthic patient care providers as well as suppliers of other types of medical equipment. Standards are grouped into categories and include topics such as organizational process, patient care, performance management, product safety, facility safety, and supplier compliance. Each of these categories contains a set of standards unique to the specific type of accreditation an organization is seeking.