Osgood – Schlatter Syndrome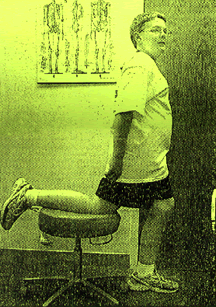 By Doug Thomas, World-Herald Staff Writer – Omaha World-Herald 11/22/99
Experts say bone related growing pains in young adolescents are actually manageable.
Osgood-Schlatter syndrome causes jabbing pain just below the knees and has forces kids to cut back on their year-round load of sports.
Osgood-Schlatter syndrome afflicts perhaps 1 percent to 2 percent of young adolescents, said Dr. Daniel Larose, medical director of the sports medicine team at Edmundson Hospital in Council Bluffs.
Most kids get it between ages 9 and 14, Larose said. It's five times more common among the physically active than the sedentary, and it's especially common in sports with lots of running and jumping, such as basketball.
The pain comes from irritation at the point where the tendon from the kneecap attaches to the top front of the larger shinbone, Dr. Lyle Micheli writes in "The Sports Medicine Bible" (HarperPerennial, $21). The ends of children's bones are growing and have not fully hardened. During growth spurts, bones grow faster than tendons do, making the tendons tighter and more likely to pull on the point where they attach to bones.
But Osgood-Schlatter syndrome is a manageable problem, Larose said.
"I have kids concentrate on one sport at at time." He said. "What I usually tell parents is if it's soccer season, let them play as much soccer as they want – but cut back on basketball.
"I have them decrease their activity level by about 20 percent. That usually does the trick."
About 1 in 10 Osgood-Schlatter patients develop an ossicle, a piece of bone through the tendon that might require surgery. But for most kids with Osgood-Schlatter, the pain lasts less than a year and is severe for no more than a few months.
Faithful stretching at least twice a day can help keep them on the field or court, John Woodward, senior physical therapist with the Edmundson sports medicine team, said it's especially important to stretch the hamstrings, the back thigh muscles. It also helps to have limber quadriceps, the front thigh muscles. The standard quadriceps stretch is to pull the foot back until the heel approaches the buttocks. Larose said that applying ice for 20 minutes after exercise also helps, as do anti-inflammatory medications such as Tylenol or Advil.
"About 80 percent of what we do is reassure the parents." He said. "They need to know their kids are not damaging the joint by playing with pain."