Bellevue, NE
SEE THE TRAINER®
4102 Twin Creek Dr. #110
(41st & Hwy 370)
Bellevue, NE 68123
(402) 502-9782
(402) 502-9791 fax
Mike@STTBellevue.com
Mike Stick
I was born and raised in Omaha, NE and attended Creighton University from 1991-1995, where I received a Bachelors degree in Business Management. While at Creighton, I worked hard academically while becoming a member of the Bluejay baseball team. After graduating and finishing my baseball career at Creighton, I played professionally for two seasons. My employment history includes management positions with two large financial institutions. I am starting a business in a field in which I have both personal interest and experience. I spent an unfortunate amount of time in my athletic career in the athletic training room, working with the medical staff to treat and rehab a number of injuries. A priority of mine will be that my staff and I provide all of our customers with top quality products and in an atmosphere filled with knowledge, kindness and integrity. We will always do our very best to make sure that you are satisfied.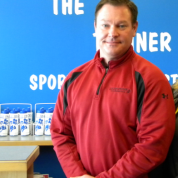 Jess Herek
I grew up in Bennington, NE, where I ran cross country and track throughout high school. My senior year I took a sport's medicine class and that is what helped me decide to apply for the University of Nebraska at Omaha's athletic training program. Four years later I graduated with my Bachelor of Science in Athletic Training in 2015. As an athletic training student, I had the opportunity to work with many different teams in the Omaha area to develop knowledge and practice to prevent, evaluate, and treat various injuries. I then started working at See the Trainer in September of 2016 not long after I found out I was going to have a baby girl named Charlie. My goals are to become a Certified Athletic Trainer and also a Certified Fitter in Orthotics.
Kenzie
I was born and raised in Papillion, NE, and graduated from Papillion La Vista High School in May of 2017. I attended Iowa Western for two years but in the second year I changed my major from Physical Therapist Assistant to a bachelor's degree in Kinesiology and transferred to the University of Nebraska Omaha. Growing up I was involved in a variety sports and competitively played softball and basketball until my freshman year in high school. While the field of physical therapy still interests me, working with athletes is what I really see myself doing. So after I complete my undergraduate degree, I plan on getting a master's degree in Athletic Training. I started at See The Trainer in July of 2017 and some of the key learnings I have experienced are the ability to interact and help the diverse patients that come in and have enhanced my knowledge in sports medicine.
Jake
I was born and raised in Omaha, NE. As a child I grew up playing sports nonstop. Whether it was soccer in my grade school years or cross country in high school, I was always actively on the go. I have worked for about 5 years in hospital settings, starting as young as a freshman in high school at Children's Hospital. I have worked at See the Trainer for a little over 2 1/2 years, and I hope to continue for many more. My job is to strive for excellence no matter what the situation. I will always try my hardest to make sure you have the best experience possible.
Jeremy Langer
I was born and raised in Western Kansas and now call Omaha my home. I attended Fort Hays State University in Hays, Kansas where I received my Bachelors of Science in Athletic Training and my Masters degree in Health Science. I have been a National Athletic Trainers Association member and Board Certified Athletic Trainer since 2007. I have a wide range of experience working with athletes of all ages and injuries of all types. I have worked for high school, college, semi professional and NFL teams. I have been at See The Trainer since August 2018. I look forward to helping you with your needs.
Jessi Urzendowski,
I am a mother, wife, chef, chauffer & sports goer. In 2009 I attended College of Saint Mary, where I was fortunate enough to receive a partial scholarship to play soccer. I started off my season after undergoing rehabilitation for an ACL tear. After a few short months I tore my ACL again, this time with an additional injury to my meniscus. My season was short lived and I was not fortunate enough to return to play. With my first year of college on the books, I followed my heart and moved to Georgia where I finished my degree. I graduated in 2013 with a Bachelors in Health Science from Georgia State University. I have always known I wanted to work in healthcare and started my journey with 8 years in the chiropractic field. I received certification to take x-rays in NE & GA. In August of 2018 I joined the team at See The Trainer! I have a passion for helping people, learning everyday & providing exceptional care to all. When I am not serving others you will find me at a ball field with a baseball cap on cheering on one of my three boys!