Plus 20-30 mmHg Stockings, Extra Wide Calf (open toe) w/ Silicone Band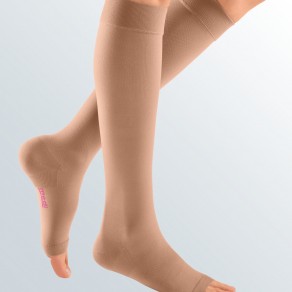 The all-arounder for him and her
Indications:
Moderate to severe varicose veins.
Heavy, achy legs.
Healed ulcers.
Early-stage lymphedema.
Moderate to severe edema.
Ideal for patients with skin issues (ulcers and staph infections).
Features:
Opaque coverage to conceal blemishes and varicose veins.
Strong material for extra support.
Comfortable, patented Clima-Comfort releases moisture for temperature control.
Zinc Pyrithione provides antibacterial properties to reduce odor, and antifungal properties to reduce the formation of fungus caused by moisture while also reducing static cling.
Combination of both elastic and inelastic properties for serious edema containment.